The TM Plot add-in has undergone a major "behind the scenes" change. The default mechanism to specify a cell range in a userform has been the RefEdit control. However, some change Microsoft made in the recent past has resulted in some reports of problems with that control. Also, the control, while very useful, has not seen any improvements in a long time and crashes Excel when used in a userform shown modeless or when embedded in a userform page or tab. I wrote a replacement for the control and it appears in all my recent add-ins, including this version of TM Plot.
The TM Plot add-in graphs any formula that can be entered in an Excel cell as a function of one of its precedent cells. It does not require one to explicitly create a table of x and y values, doing the necessary work itself.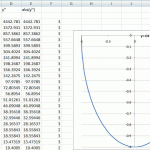 It also lets one combine in a single graph multiple plots (up to a limit of 5).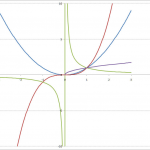 Finally, the add-in improves the typical plot by concentrating its efforts on those portions of the graph with the greater curvature. The graph on the left, drawn with the add-in, crosses the x-axis smoothly. By contrast, the graph on the right, drawn from a table of data, shows a distinct, and incorrect, kink at the x-axis crossing.